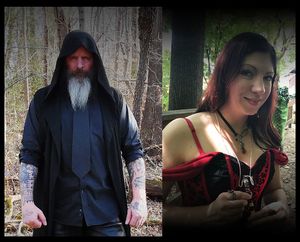 Joseph Isaac - (in this realm)
Plays All Bass, Piano, Guitar, Drum Programming, Synth, Cedar Flute, and Sings Vocals, Backing Vocals, and Harmony Vocals.
    Joseph was born and raised in Maryland and at the age of 10, he started playing drums, then guitar.  At 11 in the summer of 76, he was allowed to go see the movie "The Song Remains The Same" by Led Zepplin. He watched in awe, bassist John Paul Jones and from that moment, he knew what he wanted to be. It took two years for Joseph to get his very first bass and in 78 he became a bassist.
    Establishing himself as a diverse and solid bassist for over 40 years. With so many other talented bass players in the world with speed and new technical styles, he sees himself more of a laid back traditional bassist. Having influences and idols such as John Paul Jones, Stanley Clark, Steve Fossen and Steve Harris, Joseph's style of playing is more of a smooth romantic style but at the same time, hitting notes that will crack your ribs.
    Playing in metal bands throughout the 80's and 90's, Joseph's taste in music started changing in the late 90's early 00's.  He has lived, recorded, performed, traveled, and toured all over the country. The past 15 years having performed with and/or recorded with a diverse collection of artists throughout his more recent music career. Including World Renown conductor Peter Trofimenko (The American Balalaika Symphony Orchestra), singer/songwriter Jessica Star, songwriters Brett Zwerdling & Arroh Meuse (Maharal), singer/songwriters Sharon Knight & Winter, Bob Jones (drummer for the US Army and US Military Academy Band at West Point) Michael Saint John (drummer for Brother), singer/songwriter SJ Tucker, singer/songwriter's and sister duo Cecilia Grace, Professional drummer Billy Woods, World Renown Harpist Diana Rowan, International Flutist Betsy Winslow Timber, World Renown pianist Elena Ulyanova-Caldine, World Renown Pianist Natalia Bogdanova,.........       to name a few. 
    Having appeared on several albums from metal to classical and many genres in between. His style of writing has been and is a mix of jazz, new age, world, metal, alternative, rock, gothic rock, and classical all blended together. He plays other instruments as well, such as piano, acoustic/electric guitar, traditional cedar flute, traditional hand drum, and Doumbek but only while recording his music. His first true love is his bass and he will always be a bass player.
    Joseph is a storyteller and while writing and recording his debut album in 2017,  "The Warmth Of Love & Bass", that is based on a true story, he was involved in a project with play writer, director, and International pianist and singer Mecca Burns to collaborate with her on the soundtrack for the upcoming Shakespeare play "Merchant Of Venice" that debuted in late October 2017.  He went on to record his second album "The Beautiful Darkness Of A Midnight Snow - (A Winter's Tale). A dark story about the Winter Solstice that was released in 2018.
    Along with Joseph's deep passion for playing his bass, creating and recording his music and performing live,  he loves dark and mysterious things, finding open portals to other realms, Goddesses, witches, shieldmaidens, castles, and haunting music that makes you cry. Autumn is his favorite time and color. Joseph is a diehard romantic and loves everything about romance from a time long ago. I time and place where love and romance were real and true. These are things that help him create and write his music.
    After a very long 3 year search for his music duo partner, Joseph finally found Marysa.  An extremely gifted and talented singer/songwriter with deep and powerful vocals. Her range goes from many levels of rock to a dark operatic/theatrical style all combined. They both have the same taste in music, many of the same ideas and visions, and The Hidden Realm® was born.
Marysa Leigh - (in this realm)
Sings All Lead Vocals, Backing Vocals, Harmony Vocals, and Plays Percussions.
    As a New York City native, Marysa came out singing and has always been drawn to fantasy, music, and storytelling. At the age of three, her mother found her listening to opera in her bedroom and trying to sing along. She began taking voice lessons with professional vocal coach Jacqueline Shotigian at the age of 6 and continued into high school. During that time she performed in various recitals, choruses, the glee club/drama club, and school musicals. Leading to her record a song for an NYC-based anti-drug campaign "Friends can make you feel better/All the things we can do."
    While attending American University, she took singing lessons and studied opera under the guidance of singing coach Elizabeth Vrenois for a couple of semesters where she was established as a lyric mezzo-soprano and used most of her electives to take some type of music history class.  While not her forte, Marysa has dabbled in learning the violin and piano. Throughout her 20s and 30s, she began to attempt to write songs and melodies and consistently created lyrics, poems, and several short stories. She has also been a guest singer for several bands in the Washington, DC area.
    More recently she established herself on Instagram (Costumed Canary) and began taking cosplaying more seriously. She has dressed as Jon Snow, Thor, Wonder Woman, Lara Croft, and The Black Canary to name a few. She landed her first movie role in 2019 as a featured extra, Secretary Sally, in "The Zombie Club" starring Dean Cain which can be found on Amazon Prime. 
Marysa's music influences are vast spanning from big band, jazz, classical, opera, pop, rock, world, and electronic with a splash of metal.  Her top five music influences include Sarah McLachlan, Ingrid Michaelson, Dolores O'Riordan, AURORA, and Tarja along with so many other singers and songwriters such as No Doubt, Paul Cole, The Yeah Yeah Yeahs, Imogen Heap, Fiona Apple, Josh Groban, Within Temptation, Loreena McKennit,  Wardruna, Nightwish, the Fugees, Sirena, Enya, Diana Krall, Cole Porter, Ella Fitzgerald,  Kayah, Percival, After Forever, Cecilia Bartoli, Leontyne Price, Sumi Jo, Renee Fleming, Mozart, Puccini, Alma Mahlter, Dvorak, Verdi, Chopin, and Gershwin. 
Nature, spirituality, ghost stories, lores, mysteries, the unknown, outer space, travel, other cultures, and peoples have always motivated and inspired Marysa in her creative endeavors. She is very excited to set forth on this newest venture with The Hidden Realm®.